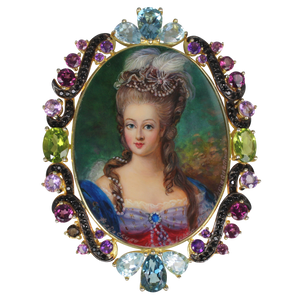 Marie Antoinette; born Maria Antonia Josepha Johanna; (2 November 1755 - 16 October 1793) was the last Queen of France before the French Revolution. She was born an Archduchess of Austria and was the penultimate child and youngest daughter of Empress Maria Theresa and Francis I, Holy Roman Emperor. She became Dauphine of France in May 1770 at age 14 upon her marriage to Louis-Auguste, heir apparent to the French throne. On 10 May 1774, her husband ascended the throne as Louis XVI and she assumed the title Queen of France and Navarre, which she held until September 1791, when she became Queen of the French, as the French Revolution proceeded, a title that she held until 21 September 1792.
This is a unique collectible hand-made One Of A Kind "Museum" piece.

Metal: 18K Gold & Black Rhodium over Sterling Silver.

Stones: Purple & Pink Amethyst, Rhodolite Garnet, Peridot, Black Spinel, Light & London Blue Topaz.

Color: Green, Light and Dark Blue, Lavender, Purple, Pink, Fuchsia, Black.

Style: Pendant with Enhancer/ Brooch.

Pendant Size: 50mm x 65mm.