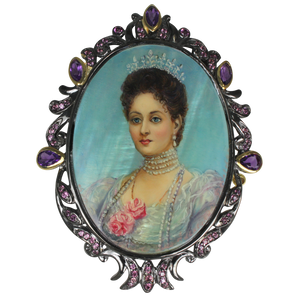 Alexandra Feodorovna (6 June 1872 - 17 July 1918) was Empress of Russia as the spouse of Nicholas II the last ruler of the Russian Empire from their marriage on 26 November 1894 until his forced abdication on 15 March 1917. Originally Princess Alix of Hesse and by Rhine at birth, she was given the name and patronymic Alexandra Feodorovna when she converted and was received into the Russian Orthodox Church. She and her immediate family were all killed while in Bolshevik captivity in 1918, during the Russian Revolution. She was later canonized in 2000 in the Russian Orthodox Church as Saint Alexandra the Passion Bearer.
A favourite granddaughter of Queen Victoria of the United Kingdom, Alexandra was like her grandmother, one of the most famous royal carriers of the haemophilia disease. Alix had lost her elder brother, Prince Friedrich of Hesse and by Rhine and her uncle, Prince Leopold, Duke of Albany to hemophilia, and bore a hemophiliac heir, Alexei Nikolaevich, Tsesarevich of Russia. Her reputation for encouraging her husband's resistance to the surrender of autocratic authority and her known faith in the Russian mystic Grigori Rasputin severely damaged her popularity and that of the Romanov monarchy in its final years.

This is a unique collectible hand-made One Of A Kind "Museum" Piece.
Metal: 18K Gold & Black Rhodium over Sterling Silver.

Stones: Rhodolite Garnet, Amethyst.

Color: Sky Blue, Pink, Fuchsia, Purple, Black.
Style: Pendant with Enhancer/ Brooch.
Pendant Size: 50mm x 65mm.